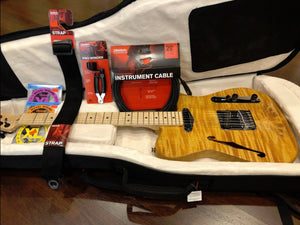 10 Essential Items for the Gigging Guitarist (Part 1)
Whether you're showing up to the local open mic night, playing a night of covers at the local dive, or playing a set of original tunes at a club, I've compiled a list of absolute necessities for any guitar player who is out and about regularly.  This is not a list of big expensive items- so don't take out a loan, and it is not genre specific- this is just a friendly reminder from one musician to another that it is always nice to be prepared, and with that, let's begin!
1.)  A Good Gig Bag
I love my hardshell cases for keeping my instruments protected- don't get me wrong- but these days, a high quality gig bag can be just as good or even better.  For traveling, they are certainly far more lightweight and maneuverable, and not nearly as bulky, while still offering plenty of protection. With a lot of modern gig bags, you'll find you can unload your instrument while the bag is still standing up, and you'll find the extra storage inside the bag to be far more useful than that one narrow pocket in a hardshell case.  Whether you're taking the train into the City for a gig or just headed to the local bar around the block, a gig bag is going to be easier to manage both on the way to and at the venue.
For this one, we are putting a spotlight on the Gator Pro-Go Ultimate Guitar Gig Bags. These rigid bags hold their shape so top loading is possible, and their ultra thick padded walls will give some of your tough hardshell cases a run for their money. On the interior, a soft white bed of microfleece hugs your guitar, and it is guaranteed to stay in place by both an extra padded neck cradle and a bottom body block for shock absorption.
Storage is another issue among case carriers, and it is a problem solved with the Gator Pro-Go. The largest exterior pocket has a cable management system for easy organization, a tablet pocket, and extra space for an individual pedal or adapter. Near the headstock, there is another smaller pocket with ample space for accessories. Finally, the portability of this bag is what makes it an essential for any guitarist on the run. Carry this bag by a front or side handle, or on your back via the extra heavy duty backpack straps attached by carabiner. In case you get stuck in the rain this case even has a protective rain slicker to slide over. Seriously, the folks over at Gator thought of everything while putting this one together.
2.)  An Extra Instrument Cable
This is a no-brainer. Whether you use a wireless system and find yourself running around the venue or a conventional cable, you are always better safe than sorry. It always make sense to have an extra instrument cable handy in a pinch- and even if you don't end up needing it, odds are someone you're playing with that night might. While you are thinking about it, I think every guitar player has a tumbleweed of old instrument cables laying around somewhere. My big suggestion would be to go through all those cables and find the winners that are still fully functional- the forgotten. Take all the fallen cables that don't work anymore and if you're not interested in taking them apart, trash them! Clear out your music space of all those things that don't work and replace them with two or three brand new cables that are reliable and sturdy. I'm not advocating for you to spend $100 on a guitar cable. For this one I'd put a spotlight on the Custom Series Instrument Cables by D'Addario.
The D'Addario Custom Series Instrument Cables have Gold-plated plugs for optimal signal transfer and corrosion resistance- making sure that they keep working gig after gig. The plug ends are constructed with a flexible polymer for maximum bendability and encapsulated soldering points. Should you get excited about new cables? Why not! I'd be more excited about never cutting in and out at a gig again.
3.)  Clip on Tuner
There is nothing worse than striking your first chord with confidence on a gig, only to realize that you're not quite in tune.  These days, there is no excuse. Between pedal tuners, apps you can get on your phone, and clip on tuners you can put right on your headstock, you should always be in tune at the start of a gig.  Get yourself one of these, and keep it in the same part of your gig bag before and after every time you use your guitar. The D'Addario Eclipse Clip-on Tuner has been one of the most cost effective additions to my bag lately, and it is has not failed me yet! They are available in a slew of bright colors so you won't lose it on a dark stage, or if you want to keep a low profile, you can still get it in black. The bottom line is don't be the one out of tune! Get a tuner!
4.)  Clip-Lock Guitar Strap
I've always had strap-locks on all of my different guitars, and I used to have a dedicated strap for each guitar.  I'll be honest, loading different guitars into a gig bag and remembering to pack the right strap and other corresponding goodies started to become a little hard to keep track of. I recently found the D'Addario Clip-Lock strap and it is a super simple guitar strap that I find very comfortable and extremely easy to use.  I first considered it as a great backup strap, as it locks right onto your guitar with ease, and has a simple black seatbelt style, that is both comfortable and visually muted, which allows to highlight the guitar's aesthetic. After using this strap on a few gigs, I quickly decided that I prefer it over most of my current straps.  So whether you're looking for a good backup strap, or a simple catch-all strap for all of your electrics, this is a great choice.
5.)  Extra Strings & a Pro Winder
Another no-brainer.  Whether you baby your strings, or you beat on them every time you play, odds are you've probably broken a few strings over your tenure playing.  There's no reason to show up at a gig without an extra set. Guitar strings start at $5 for a set, and you can usually get a single of the high strings for just $1. If you're going to change a string, make it easy on yourself!  A D'Addario Prowinder makes it quick and easy and allows you to cut the end of your string afterwards so your guitar doesn't look unkempt and ridiculous. This is your reminder to keep neat and be ready.
Stay tuned for the second half of our list.
---