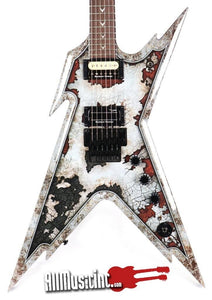 Dean Electric Guitars
Dean Guitars
: Innovative Designs for the Modern Player
When it comes to guitar brands, few have made as big of an impact as Dean Guitars. Founded in 1977 by Dean Zelinsky, the company quickly became known for its innovative designs and high-quality craftsmanship.
Today, Dean Guitars is a favorite among players in a variety of genres, from metal to blues to country.
One of the things that sets Dean Guitars apart is their commitment to innovation.
From the iconic Dean ML to the more recent Vendetta and Razorback models, Dean has always pushed the boundaries of what a guitar can be.
They've also been at the forefront of incorporating new materials and technology into their instruments, such as using lightweight carbon fiber for the necks of some models.
Of course, all the innovation in the world wouldn't matter if Dean Guitars didn't deliver when it comes to tone and playability.
Fortunately, they do.
Dean guitars are known for their powerful, high-output pickups and fast, comfortable necks.
Whether you're looking for a guitar that can handle drop-tuned chugging or blistering shred solos, Dean has you covered.
Overall, Dean Guitars are a great choice for players who want a guitar that stands out from the crowd and delivers uncompromising performance.
Due to the ongoing lawsuit between Dimebag's widow Rita and Dean, the Dimebag designs have been removed from Dean's catalog.
But All Music Inc. still has a few of these awesome guitars in stock and ready to ship.
---