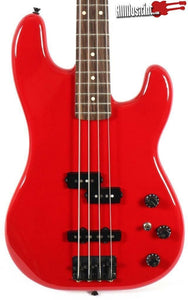 Fender Electric Bass Guitars
Since its introduction in the 1950s, the Fender Precision Bass (P-Bass) has been a staple of modern music.
It revolutionized the music industry by providing bassists with a powerful and versatile instrument that could hold down the low end of any song.
Fender basses are known for their iconic designs, which include the Precision Bass, Jazz Bass, and Mustang Bass.
Each of these models has a unique tone and feel that has made them popular among musicians of all genres.
The Precision Bass, or P-Bass, was the first electric bass guitar produced by Fender.
It features a split-coil pickup that provides a clear and powerful tone.
The P-Bass is known for its punchy sound, making it a popular choice for rock, punk, and metal bands.
The Jazz Bass, or J-Bass, was introduced in the 1960s and is known for its versatility.
It features two single-coil pickups that allow for a wider range of tones, making it a popular choice for jazz, funk, and R&B musicians.
The Mustang Bass is a shorter scale bass that was introduced in the 1960s.
It has a unique tone that is somewhere between a Precision Bass and a Jazz Bass.
The Mustang Bass is popular among indie and alternative rock musicians.
Fender basses are also known for their high-quality construction and attention to detail.
The company uses only the finest materials and craftsmanship to produce basses that are not only visually stunning but also produce rich, clear tones.
In conclusion, Fender basses have been the backbone of modern music for over half a century.
Their iconic designs and versatile tones have made them popular among musicians of all genres. Whether you're a beginner or a seasoned pro, a Fender bass is a must-have instrument for any bassist.
---