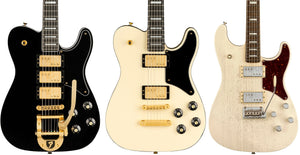 Here comes Trouble. Parallel Universe II.
Fender's 2020 Parallel Universe II Series does not disappoint! The most notable models of the new lineup continue to stir the pot, borrowing Gibson-esque features for their limited line of "What If?" type models. The standouts I'll be talking about are the two new Trouble Maker Teles, and the Uptown Strat.
First up- the Tele Tuxedo! Classic Black finish paired with gold hardware. The Trouble Maker Tele Deluxe Bigsby model boasts three Tim Shaw- designed "Double Tap" Humbuckers, and a borrowed "Adjusto-Matic" Vibrato Tailpiece. As far as timber, we have mahogany and ebony bound in white and inlayed in pearloid. This guy MAPs at $2499.
Next up, the Blondie! This creamy aged Olympic White pairs with gold hardware again, but this time just a standard pair of Tim Shaw's Double Tap Humbuckers and the "Adjusto-Matic" Hardtail bridge. More the classic Paul imprinted onto a Tele body, the timber is the expected bound mahogany with an ebony fingerboard. For $2399 MAP, this is another awesome rendering of a new Fender Universe.
Finally, let's get some Strat's in the mix! The Uptown Strat features modest white finish on a lightweight Fijian mahogany body for the simple needs of the modern player. The mahogany neck has a sculpted neck joint for comfortable access in the higher register. The classic Strat two point Tremolo contrasts the Double Tap humbuckers. The guitar's aesthetic is rounded out with a vanity pickguard in Gibson styling, and with the electronics locations and pickup mounting rings solidifying the cool cross-pollination. The Uptown MAP's at $1999 and has plenty of range for its price point.
Stay tuned for more exciting NAMM reveals and reviews.
-Tommy
#Fender #ParalellUniverse #Troublemaker #Tele #Uptown #Srat # NAMM2020
---