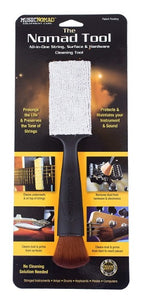 Music Nomad MN205 Guitar AND Oreck Air Purifier Cleaner ???
Sometimes you accidentally find a separate, yet arguably even more important use for a tool you already have.
That is certainly the case with the Music Nomad MN205.
While I already had them for cleaning my guitars, I found they are also the perfect cleaning tool for my Oreck Air Purifier.
Having struggled with chemical sprays and twist ties, I was looking for an easier way to clean the Truman Cell in the purifier.
One day I had the Nomad in the drying rack, having just washed the microfiber and I realized that it was the perfect thickness to get between the slats of the Truman Cell I was trying to clean.
Bam! Perfect fit and took half the time.
So, whether you have guitars, Oreck Air Purifiers, or both, this is a great tool to have on-hand.
https://www.allmusicinc.com/search?q=nomad
---