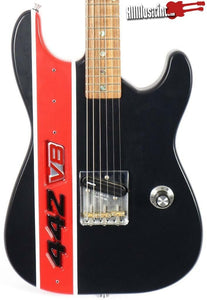 Rockaway Relic Custom Electric Guitars
If you're a guitar lover, you may have heard of
Rockaway Relic Guitars
, custom guitar builders in New York.
Rockaway Relic Guitars has made a name for itself by producing some of the finest vintage-style and custom one-off guitars around.
Rockaway Relic Guitars has become known for its exceptional craftsmanship and attention- using only the finest materials and parts- each one is meticulously crafted by hand.
One of the things that sets Rockaway Relic Guitars apart from other guitar companies is its focus on authenticity.
The team spends countless hours researching and studying vintage guitars, in order to recreate their sound, look, and feel as accurately as possible.
As a result, Rockaway Relic Guitars has become a favorite among musicians who demand the highest quality instruments.
Whether you're a professional musician or a guitar enthusiast, Rockaway Relic Guitars is a company worth knowing about.
With their dedication to authenticity and craftsmanship, they're sure to continue making exceptional guitars for years to come.
---