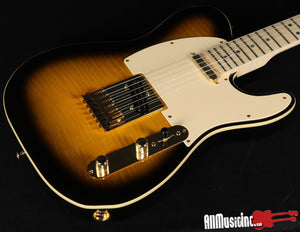 The Fender Richie Kotzen Signature Telecaster
Richie Kotzen is a renowned guitarist, singer, and songwriter known for his unique blend of rock, blues, and soul music.
Over the years, he has played with several bands, including Poison, Mr. Big, and The Winery Dogs. In addition, Kotzen has released several solo albums, including "Telecasters & Stratocasters", a collection of instrumental tracks that showcases his love for Fender guitars.
One guitar that stands out in Kotzen's collection is his signature Telecaster.
The Richie Kotzen Telecaster features a solid ash body with a flame maple top, a one-piece maple neck with a large "C" profile, and a maple fretboard with 22 jumbo frets.
It also comes equipped with two custom DiMarzio pickups, a three-way blade switch, and a six-saddle string-through-body bridge.
What makes the Richie Kotzen Telecaster unique is its versatile tone.
The custom DiMarzio pickups deliver a range of sounds that are perfect for any style of music.
The bridge pickup is hot and aggressive, perfect for rock and blues, while the neck pickup is warm and mellow, ideal for jazz and soul.
The combination of both pickups provides a rich and full sound that is perfect for any genre.
In addition to its versatile tone, the Richie Kotzen Telecaster is also a visually stunning guitar.
The flame maple top, combined with the ash body, gives the guitar a beautiful Brown Burst finish that is sure to turn heads.
The chrome hardware and cream guard add a touch of elegance to the overall look of the guitar.
In conclusion, the Richie Kotzen Telecaster is an exceptional guitar that combines versatility, tone, and beauty.
Whether you are a fan of Richie Kotzen's music or just looking for a high-quality guitar, the Richie Kotzen Telecaster is definitely worth considering.
---