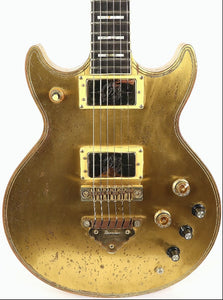 Vintage 1978 76lbs Ibanez Brass Artist Electric Guitar
The story of the 1978 Brass Ibanez Artist.
The late 1970s was the age of brass everything in the world of guitar, manufacturers were making brass nuts, bridges, tailpieces, etc- all with the goal of increasing guitar sustain.
The luthiers at Ibanez Japan decided to take it to its logical end- an entire guitar built from brass.
Starting with an Ibanez Artist platform, the body, neck, tailpiece, bridge, nut- everything would be brass.
The resulting Artist weighed 76 pounds and debuted at Chicago NAMM in 1978 others have stated 1979, but articles from 1978 show the instrument being displayed).
The instrument then began a tour of Ibanez dealers all around the country.
Several years ago we were able to aquire this Ibanez from a private collector a few years back and since then it has proudly been on display in our store.
So if you'd like to know what a 76 pound guitar sounds like feel free to come by All Music Inc. in Plainview, NY.
---