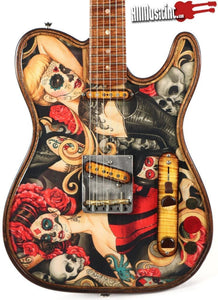 Walla Walla Custom Electric Guitars
If you're a guitar lover, you may have heard of
Walla Walla Guitars
, a small boutique guitar company based in Walla Walla, Washington.
Walla Guitars has made a name for itself by producing some of the most beautiful and unique guitars around.
From the beginning, Walla Walla Guitars has been about more than just building guitars.
They see each guitar as a work of art, and they approach each one with the same attention to detail and creativity as a sculptor would approach a piece of art.
One of the things that sets Walla Walla Guitars apart from other guitar companies is their use of exotic and unusual materials- from rare woods and metals, to vintage and antique materials, each guitar is a one-of-a-kind masterpiece that reflects the unique style and vision of its creator.
In addition to their beautiful and unique designs, Walla Walla Guitars are also known for their exceptional tone and playability.
Each guitar is crafted by hand, using only the finest materials and parts, and is designed to be both beautiful and functional.
Over the years, Walla Walla Guitars has become a favorite among professional musicians and collectors alike.
If you're looking for a truly unique and beautiful guitar, Walla Walla Guitars is definitely worth checking out.
---