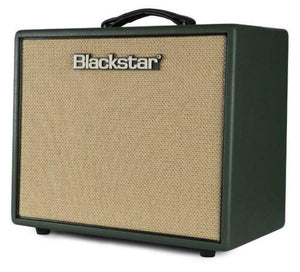 Blackstar JJN-20R Combo Electric Guitar Amplifier
Today we're featuring the
Blackstar JJN-20R MKII Electric Guitar Tube Amplifier
.
EL84s are at the tonal heart of Jared's JJN-20RH MkII head.
With a wider radius box, stunning racing green tolex and distinctive tilt-back design the JJN-20R MkII is as eye catching as it looks.
Jared has been using Blackstar for nine years to deliver his unique BLUESPOWER tone.
His high energy performances and 'pick-less' guitar playing technique have seen his reputation continue to grow year on year, as more people are introduced to his unique blend of blues grit and gusto, through to bombastic arena-size rock 'n' roll.
Jared spent time at Blackstar HQ in Northampton, England working on the voicing and cosmetic designs to ensure this amp would deliver his sound night after night as he tours the world.
The results are both sonically and visually stunning.
The JJN-20RH MkII has two footswitchable Clean Voices, one with an "American" character and the other with a Class A "British" sound.
Voice 1: Voice 1 clean gives a bright and tight tone with a solid bass response, the tone shaping is positioned early in the gain structure for a refined American tone and response.
Voice 2: Voice 2 gives a highly responsive "chime" with a looser, resonant bottom-end for a British tone that can be pushed into a mid-range overdrive when driven hard.
The two footswitchable Overdrive Voices are characterized by a tone which is high in gain, but avoids any of the detached top-end "fizz" often found in other designs.
Voice 1: This is the Classic "British" Blackstar overdrive. Rich and natural it goes all the way to Super Crunch gain but cleans up beautifully.
Voice 2: Inspired by the critically acclaimed HT Venue MkII high gain sounds, this overdrive has additional aggression in the high-end with a tight resonant low-end.
The conventional three way guitar tone stack is a key to the characteristic "voice" of traditional guitar amplifiers.
The ISF control allows you to infinitely adjust the response of the tone control network between any traditional voicing in a way that has never before been possible.
In this way you can design your own sound and truly find 'the sound in your head'.
---