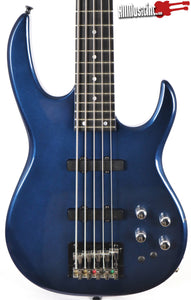 Carvin LB75 Metallic Blue Electric Bass Guitar
1995 
Carvin LB75 Metallic Blue Electric Bass Guitar
.
34" scale length. 1.75" nut width. 9 lbs 1 oz.
.78"-.91" 1st to 12th fret neck depth.
.55" string spacing.
Carvin was responsible for some of the coolest designs, especially in the late 80s/early 90s.
This Carvin starts off with a poplar body and maple through neck.
This, in combination with the high mass Wilkinson bridge, results in a big natural tone, with the weight creating good midrange push.
Dual Carvin passive humbuckers grab this tone and add their own vibe to the mix.
These run into an active circuit with volume, balance, bass, and treble.
The passive pickups enable a dynamic response while the active preamp allows you to tweak the tone- a great combination.
The maple/ebony neck here has a comfortable feel, while the through design enables excellent tone transfer.
The look here is classic Carvin- Metallic Blue finish, dot inlays, and chrome hardware.
---