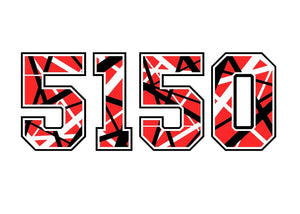 EVH 5150 Electric Guitar Amplifiers Amps
5150 amplifiers
are a popular choice for guitar players looking for a powerful and versatile sound.
Originally designed by Eddie Van Halen and Peavey in the 1990s, these amps have become a go-to option for heavy metal and hard rock musicians.
One of the defining features of the 5150 is its high-gain distortion, which is achieved through preamp tube saturation and tube power.
This gives the amp a tight and aggressive sound that is perfect for playing fast riffs and solos.
The 5150 also has a versatile EQ section, with separate controls for bass, mid, and treble.
This allows guitar players to fine-tune their tone and find the perfect sound for their playing style.
In addition to its powerful sound, the 5150 is also known for its durability and reliability.
Many guitarists have used these amps for decades, proving them a trusted and dependable choice for touring musicians.
Overall, the 5150 amplifier is a great option for guitar players who want a powerful and versatile sound that can handle a wide range of musical styles.
Whether you're playing metal, hard rock, or any other genre, the 5150 is sure to deliver the high-gain sound you're looking for.
---